The MScM programme consists of 6 terms with a total of 120 credits and is built around 7 building blocks.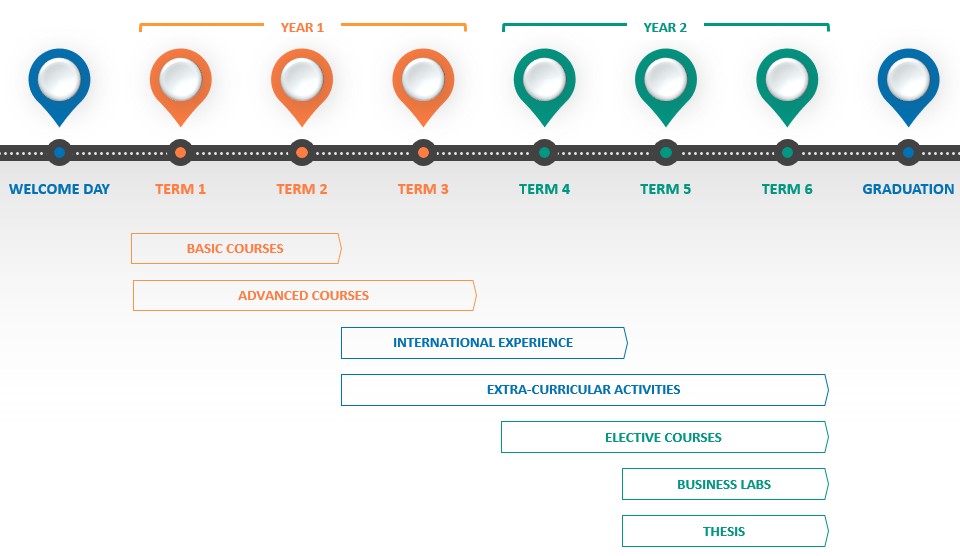 Basic courses, which are compulsory, provide students with a multidisciplinary quantitative, legal, and economic background
Mathematics for management
Transnational business law    
Managerial economics
Advanced courses develop fundamental knowledge and skills in management, allowing students to personalize their learning experience through the selection of 4 out of 7 course options
Corporate strategy
Corporate finance (options, futures and derivatives)
Customer-based marketing strategy
Financial accounting and analysis (main issues in application of IFRS)
HR management
Management control systems
Supply chain management
Elective courses allow students to deepen their study path through the selection of 1 economic course and 3 business courses
Economic courses
Labor economics
International economics (Advanced international trade and economics)
Industrial organization
Political economy of the European Union
Business courses
Business analytics
Brand management
Business communication
Change management
Business sustainability
Cross cultural management
Entrepreneurship
International business management
International corporate finance
Management information systems
Performance measurement
Project management
Public management
Work and organizational psychology
Business labs offer the students of Master of science in Management a unique learning experience with a strict connection with the world of practice. In the course of the terms 2 and 3 of second year, all MScM students are involved into one of the following business labs:
Consulting companies (business lab owners: prof. Matteo Pedrini and prof. Giacomo Manara), developing a practical understanding on how professional service firms are organized and managed and their main emerging challenges;
Fashion and luxury (business lab owner: prof. Roberta Crespi), deep diving in the essence of the luxury company business model and the peculiarities of luxury firms in managing their traditional functions;
Healthcare organizations (business lab owner: prof. Antonella Cifalinò), unpacking internal and external trends of health care service companies to appreciate their strategic and organizational challenges and their multi-dimensional performance;
Multinational enterprises (business lab owner: prof. Stefano Baraldi) understanding the strategic planning, the organization and the performance management of companies working on an international base;
Small and medium enterprises (business lab owner: prof. Benedetto Cannatelli), focusing the peculiarities of small and medium enterprises and exploring their business model patterns of innovation and their scaling strategies.
Each "business lab" is based on an educational formula developed in strict connection with a specific set of corporate partners which will work with students side by side. In the last academic year, the following companies were partners of business labs:
Business lab partners may change over time

The formula business labs are built on consists of three elements:
an introductory course (4 ECTS), which is aimed at dealing with the main issues related to the type of organizations at the core of the lab and is developed in collaboration with the business lab partners;
two additional courses (16 ECTS) students can selected among a list of suggested courses, in connection with the type of organizations the lab is focused on;
a fieldwork activity (8 ECTS), offering students the chance to put into practice the knowledge previously acquired by means of either an internship or a field project delivered to one of the business lab partners, depending on their specific needs and development plans.
The MScM provides students with a wide variety of opportunities to develop their international outlook and expand their horizons during the programme, getting in touch with different ways of living, thinking, studying and working.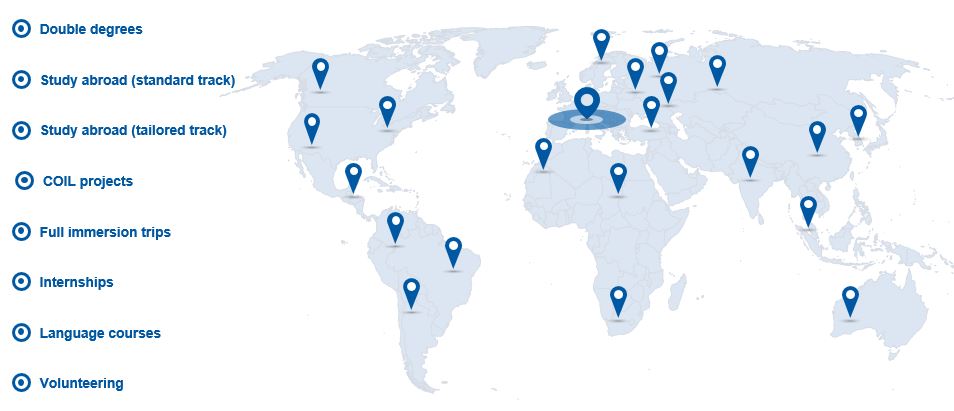 Ideally, the best "window" for MSCM students to take full advantage of their international experience is between the 2nd and the 4th term of the programme (namely, from January in year 1 to December in year 2), thus being back to Milan before the inception of business lab activities.
All study abroad options can be chosen after enrollment.
More information can be found here – check which programs are now available
Scholarships are available to support activities carried out abroad. Università Cattolica students from all faculties can apply for this opportunity
Cattolica International always supports students, via telephone, email, and with in person or online meetings


@: info.outbound@unicatt.it, Tel: 02 7234 5252
Welcome Desk – Via Carducci 28/30 (3rd floor)
Opening hours: 9:30-13:00; 14:00-17:30
In a double degree programme students are awarded at the end of their studies with two master's degrees: a MSc from Cattolica and a full second degree from the partner university. In this way, MScM students have the unique opportunity to strengthen their international competence by completing approximately a year of their studies in one of our degree partner universities:
Boston University (degree awarded: Master of Science in Global Marketing Management)
The University of Western Australia (degree awarded: Master of Commerce)
Study abroad (standard track)
MScM students can access the study abroad programmes available to all Università Cattolica students. These programmes allow students to:
spend a semester of study at a partner institution abroad while earning credits towards their degree (semester programmes): students are selected for the programmes based on academic merit and language knowledge; they can opt to do a semester abroad by way of a number of different programmes: Exchange (Erasmus+ & Overseas), ISEP Exchange, and Study Abroad;
Study abroad (tailored track)
A number of study abroad programmes are exclusively available to MScM students. These programmes allow students to:
take a number of pre-defined courses at top partner universities (Boston University and UCLA) while progressing in their career at Cattolica;
spend a variable period of time attending a partner university program and gain an international experience;
enjoy a rich combination of courses on a variety of subjects and delivery modes, thus strengthening their field of specialization;
benefit from a fast-track for their recognition by Cattolica;
customize their international experience in terms of time, learning methods (on line, on site), and costs.
Full immersion trips (FITs) consist of a one-week capstone module focused on a current business challenge and delivered by a MScM top partner university.
Accompanied by faculty members, students take part in collaborative projects, gain hands-on experience, tour local businesses, network, and take advantage of cross-cultural learning experiences through tailor-made lectures from invited business leaders and scholars.
COIL, also referred to as virtual collaboration, is a new teaching and learning paradigm that promotes the development of intercultural competence across shared mutual learning environments.
A COIL is specifically designed to link students who have different cultural and geographical perspectives and experiences. Students engage in learning both through their own cultural lens as well as by exchanging their cultural lenses as they move through the course content and assignments together. Students reflect with each other, thereby facilitating a cross-cultural dialogue that brings a global dimension to the course content.
In the coming academic year, MScM students will benefit from the COIL projects delivered in the courses reported below.
| | | |
| --- | --- | --- |
| PARTNER UNIVERSITY | MScM courses | Term |
| AMSTERDAM SCHOOL OF INTERNATIONAL BUSINESS (NL) | Performance measurement | 5 |
| AMSTERDAM SCHOOL OF INTERNATIONAL BUSINESS (NL) | Supply chain management | 2 |
| APPALACHIAN STATE UNIVERSITY (UC) | Business communication | 6 |
MScM students can undertake an extra-curricular internship abroad by choosing among the following options:
internships in companies of the Cattolica partner network;
internships offered via a specialized provider that evaluates each candidate's CV/résumé and academic background and identifies an appropriate internship placement, often in competitive markets, which matches the candidate's field of expertise; candidates can opt for specific locations.
Students can spend time abroad to improve a foreign language at any point during the academic year, selecting which language they want to focus on (whether English, French, Spanish, Russian, Chinese, German or Arabic), the type and level of course, the length of the programme and where they wish to study.
The International Volunteering Programme allows students to take part in cooperation, development and support projects within a number of companies or organizations in South America, Africa and Asia, amongst which are those that focus on childcare & orphanage assistance, community development, environmental conservation projects, health education, women's development, special education, teaching, sustainable agriculture, wildlife conservation, youth sports coaching.
Italian language course for foreign students
Students who are non-native speakers of Italian can attend the Italian language course organized by Cattolica International. The course is not compulsory but highly recommended. Students will take a placement test and be assigned to the appropriate level, according to the test results.
The Social Impact Program is a student-run consulting initiative that will support a non-profit organization with pro-bono meaningful strategic consulting services. The program is a way to have an impact, by supporting the customer to achieve significant results in the community, and simultaneously fostering opportunities for students, by offering a chance to develop professional skills and gain practical consulting experience.
Communication & Social Media Team
The Communication & Social Media Team is composed of a group of proactive, enthusiastic and committed students enrolled in the second year of the Master of Science who volunteer to take active part in promoting the program to potential prospects and other key stakeholders.
The Communication & Social Media Team members work under the supervision of a UCSC Communication Board  to:
help design and implement the content strategy of the Master of Science on the different communication touchpoints;
produce the editorial contents for the web and the social media to valorize and circulate the Master of Science experience.
The Buddy Program is dedicated to assist students during their first year on Campus with a peer-to-peer support system. A group of first-year students is matched with one second-year student who, on a voluntary base, provides practical, informative, and social support since the first weeks at the Campus.
This blended course, composed of on campus lessons and online webinars, aims at improving students' skills on how to perform advanced operations with excel in business contexts. Practical exercises are executed in class and in self-learning.
Full immersion trips (FITs)
Full immersion trips consist of a one-week capstone module focused on a current business challenge and delivered by a MScM top partner university. Accompanied by faculty members, students take part in collaborative projects, gain hands-on experience, tour local businesses, network, and take advantage of cross-cultural learning experiences through tailor-made lectures from invited business leaders and scholars.
This program consists in an annual event open to MScM students and professors who are willing to volunteer in the community by supporting a specific association for one day.
The master thesis, the concluding step of the learning experience in the Master of Science in Management, is a significant connection to business life. The thesis provide students the opportunity to apply the skills and knowledge gained throughout the programme to select a relevant business issue. While writing their thesis, students are supervised by a UCSC faculty member and may work in collaboration with a company.